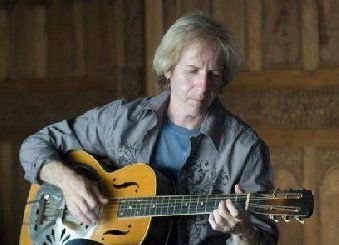 Steve Postell is a singer/songwriter/guitarist/composer and producer. His latest solo CD for Immergent Records features a host of brilliant guests who have worked with him over the years. These include David Crosby, Jennifer Warnes, John Oates, Robben Ford, Eric Johnson, Dave Koz, Paul Barrere and many others. A native New Yorker, Steve moved to Los Angeles to join Steve Ferrone (illustrious drummer for Average White Band, Eric Clapton, Tom Petty) and Grammy award winning engineer/producer John Jones, at Drumrolll, a studio/production facility in Burbank.
Trained at The Mannes College Of Music in New York City, Steve Postell has had a successful, prolific career which spans his days playing with Pure Prairie League, performing on Broadway in shows such as "Evita" and "The Man Of LaMancha," co-writing the score for the off-Broadway rock musical "Fallen Angel" (starring Living Colour vocalist Corey Glover), touring with Lea Salonga (Miss Saigon, Princess Lea in "Aladdin") as her musical director, and fronting the popular New York City bands, "Chain o' Fools" and "Little Blue". Steve has written scores for film and television including ESPN's Sportsweek featuring Greg Gumble, and producer Lawrence Kasdan's "Jumpin' At The Boneyard," a 20th century Fox production starring Tim Roth and Samuel Jackson. Steve wrote and produced Jingles for Right Sound Music in New York City for clients including Pontiac, AT&T, Dupont and many others. He has performed live on the Tonight Show with Jay Leno, The Today Show with Katie Couric, The Regis and Kelly and The Regis and Kathie Lee shows.
Steve was the project coordinator for the Shout Factory release of the 20th anniversary edition of the Jennifer Warnes/Leonard Cohen project "Famous Blue Raincoat", and has toured and recorded with Jennifer as her guitarist and musical director. He is also working on a documentary featuring the debut of a new orchestral piece by Ravi Shankar.
Steve recently won a "HOLLYWOOD MUSIC IN MEDIA AWARD" for best song in the Americana/Roots category for his song "3:45 Coming Through" (which features guitarists Buzzy Feiten and Robben Ford), and had a song featured in the Ricky Gervais film "The Invention Of Lying". He also recently composed the music for a classical ballet choreographed by Zippora Karz, (former soloist with The New York City Ballet).
Steve's latest projects include guitar lessons and production for an exciting series of music instruction apps for the iPad, created for the ON THE PATH Series, which also will feature lessons by Jackson Browne, David Crosby, Eric Johnson, Ravi Shankar, Richard Thompson, Robben Ford and many other prominent performers. He is also fronting the all-star band "NIGHT TRAIN MUSIC CLUB", which features some of the finest musicians in the country, and recently played The Vancouver Island Music Festival with special guests Vonda Shepard, Albert Lee & David Crosby.
Steve manages Pier Street Sound and The Renegade Music Group,

check out our site for more info